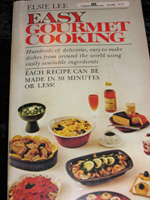 "Easy Gourmet Cooking," by Elsie Lee. Prestige Books, New York, 1962. Book is in good condition, crease on back cover, some yellowing. Good. $3.00.











"Easy to Make, Good to Eat." Scholastic Book Services, New York, 1976. A cook book for kids who are just beginning to think about cooking for themselves. Some minor shelf wear. Some minor marks on back cover. Otherwise, it is in very nice shape. $7.00.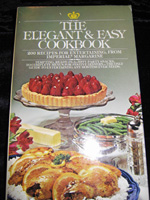 "The Elegant and Easy Cookbook: 200 Recipes for Entertaining from Imperial Margarine®." A Bantam Premium Book, New York, 1976. A few signs of rubbing, minor wear on back cover and spine. This book was evidently never read; feels new. Very good. $7.00.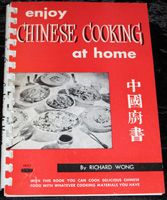 "Enjoy Chinese Cooking at Home," by Richard Wong. Mon Fong Wo Co., New York, 1949. Plastic ring spiral bound. Minor creasing here and there, some staining on spine, on front - price has been blackened, and there are a few scrapes. Some rubbing on back. Good. $10.00.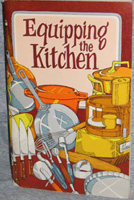 "Equipping the Kitchen," by Irena Chalmers. Potpourri Press, Greensboro, 1977. Soft cover. Minor aging, small nicks on top and bottom of spine. Very good. $30.00.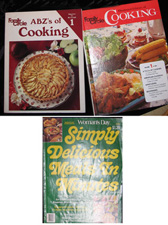 Family Circle® group. Arthur M. Hettich, editor: Family Circle ® Illustrated Library of Cooking, Volume 1 A-Bev, Rockville House Publishers, Inc., Rockville Centre, New York, 1972, hard cover. Family Circle ® ABZ's of Cooking, Volume 1, Abalone to Beverage. Ideals Publishing Corporation, Milwaukee, 1982, paperback. Both have small amounts of rubbing and creasing. ABZ's has a small metal-like mark on front cover. Very good. $12.00.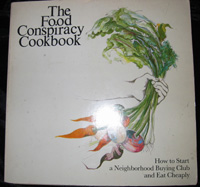 "The Food Conspiracy Book," by Lois Wickstrom. 101 Productions, San Francisco, 1974. Some wear, markings, staining to covers and edges. Finger prints and handwritten price (in pencil) on first page. Good. $4.00.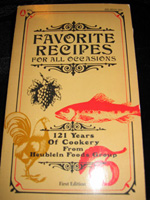 "Favorite Recipes For All Occasions, 121 Years of Cooking From Heublein Foods Group®." Popular Library, New York, First edition 1973. Book is in good condition with some page color deterioration to yellow, and the top third of cover is beginning to pull away from book's spine. Good. $7.00.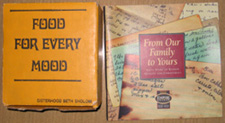 "Food for Every Mood," Harriette Nussbaum, ed. Sisterhood Beth Sholom, Teaneck, NJ. Year unknown. Okay, so technically speaking, this isn't a cook book. It's a cook box. Meticulously collected from congregation members, typed onto index cards, and categorically arranged in the usual cookbook manner. There are small tears in the cards reading "Food for Every Mood" and "hors d'oeuvres, appetizers, dips." Otherwise, it is in very nice shape. Also includes "From Our Family to Yours," by Empire Kosher. Good. $15.00.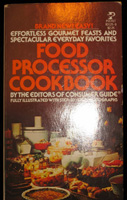 "Food Processor Cookbook," Consumer Guide, editors. Simon and Schuster, New York, 1977, paperback. Some browning, a wee bit of wear on the cover. Good. $6.00.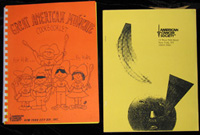 "Great American Munchie Cookbooklet...for Kids, by Kids," by the American Cancer Society, New York City Div, Inc. American Cancer Society, New York, 1992, spiral bound. Some staining on covers. Good. $10.00.