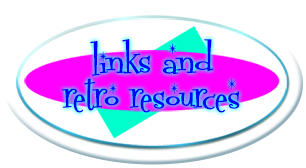 We thank these nice people for exchanging links with and/or providing useful information to us!

Better Living Through Modern Clothing and Furnishings:

Web Design
Retro Resources…

Reference:

Film' Television' Music:

Art and Architecture:

Books and Ephemera:

Dining Out

For Your Listening and Viewing Pleasure:

Hair' Make Up' Jewelry and Wardrobe Design
(several of these sites have free tutorials and / or patterns)

Morning Glory Antiques & Jewelry
Sara Spoltore: Beads Friends
Tuppence Ha'penny Vintage

Hotels' Motels:

Miscellaneous:

And how about a round of applause for our friends:

Computer guru: Terry Kennedy

Advice and laughter: Darren Ingram

Hefting and hauling: Vince Ruggiero

Materials and|or Suggestions

Geralyn Abinader' Kevin Stock
and Ciello

Amanda Tinkleman

It probably goes without saying' but…Rita's Retros assumes no liability
for the content of any of the aforementioned sites.
Rita's Retros images and text © 2004 - 2023 HJ Saunders. Website and logo design: ylana.