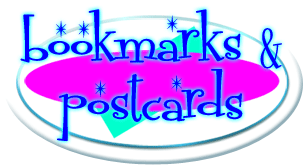 *bookmarks & postcards
*business
*cooking
*fiction& literature
*health & fitness
*the arts
*other
*Playbills

Bookmarks from the Museum of London. Here's what you get: "Lord's Mayor State Coach"' "11th century limestone slab'" "Egyptian gilded wooden coffin'" "Egyptian wooden coffin cover (all paper) and another "Lord's Mayor State Coach" (brown leather with gold graphics. Some discolouration near the middle.) Good to very good. $3.50.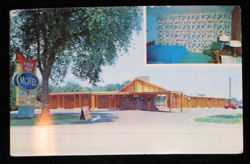 Postcard from the Arrowhead Motel in West Springfield' Massachusetts. Published by Lorraine Studio' Easthampton' Massachusetts. Made by Dexter Press' West Nyack' New York. Some edge wear. Good. $3.00.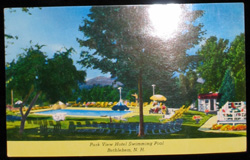 Postcard from the Park View Hotel in Bethlehem' New Hampshire. "A 'Shini Color' by Colourpicture' Boston 15' Mass' USA." Minor wear on edges' some marks on back. Good. $5.00.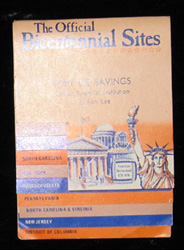 "The Official Bicentennial Sites'" by Joel Taxel. Brochure for Fort Lee Savings Bank' Fort Lee' New Jersey' 1975. And not a single site listed for Delaware' which is just plain wrong in my book. But I digress. Some minor creasing' a few nicks. Measures about 4.25 by 3 (10.8 by 7.7 cm.) Good. $5.00.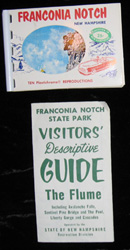 "Franconia Notch' New Hampshire. Ten Plastichrome Reproductions." M-1. Published exclusively for State of New Hampshire Recreation Division. A 'Colourpicture' Publication' Boston 15' Mass. U.S.A." Some scratches on cover and first image' some smudges on front cover. Measures about 2 13/16 by 4 1/8 (7.1 by 10.4 cm.) This order also includes a brochure: Franconia Notch State Park' Visitors' Descriptive Guide. The Flume." Measures about 5 by 2.75 inches (12.6 by 7 cm.) Good. $10.00.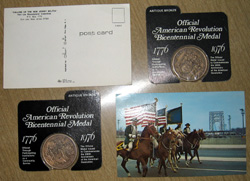 "Antique bronze. Official American Revolution Bicentennial Medal…issued to Commemorate the 200th Anniversary of the American Revolution. There are two coins. (We will also pair them with a postcard - both in good condition with some signs of wear (minor rubbing and creasing) - from the Fort Lee Bicentennial Committee. "Calling up the New Jersey Militia." Published by Albert Cotton' River Edge' New Jersey. Made by Dexter Press' West Nyack' New York. Medals are in mint condition. $25 each.
Contact' ordering'links and other information? It's all in the Details.
Rita's Retros images and text© 2004-2015 HJ Saunders. Website and logo design: ylana.