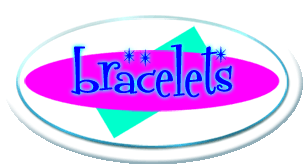 *bracelets
*earrings
*necklaces
*perfume bottles
*pins
*handbags
*scarves
*clothing
*everything else
*kisses from lola
Wood-coloured bead stretch bracelet. Good to very good. $6.50

.


Liz Claiborne "There is a purpose for every season" stretch coin bracelet. Coins are in very nice shape, but the elastic bands will need to be replaced. Unless you would prefer to wear it a little loose. Good to very good. $10.00.

Hematite bracelet with hematite column beads, round hematite beads' turquoise-coloured barrel beads' and assorted silver findings with barrel screw clasps. Very good. $7.00.


Inlaid abalone and onyx cuff bracelet stamped "Mexico." Has a slight nick in the onyx. Good to very good. $12.00.


Indian gold metal bangle bracelets in excellent shape. $7.00.




Lapis lazuli | cobalt blue cloisonné bracelet. Some discolouration near inner part of hinge' some rubbing on gold trim' but just lovely otherwise. $20.00

Goldtone chain bracelet. About 7 15/16 inches (20 cm) in length. Very good. $7.00.

Stretchy bracelet made of plastic pretty spring flowers' with matching post earrings. Very good. $7.00.

Looking for handmade accessories? Kisses from Lola may be just your style!
Contact' ordering'links and other information? It's all in the Details.
Rita's Retros images and text© 2004-2016 HJ Saunders. Website and logo design: ylana.