Ship's wheel. Navy blue and with, with golden trim. Unsigned.Just a tiny smidgen of enamel missing. Good. $5.00.
"R" pin. So Mary Richards

-

esque, isn't it! Gold tone, approximately 3 inches (8 cm) tall. $10.00.

G-rooovy butterfly pin. Lightweight metal Condition: copasetic' thank you for asking! Unsigned. $5.00.

Cloisonné Coyote. Unsigned. In pretty good shape, though. Very good. $10.00.
Rhinestone star. Unsigned. Measures about 1 5/16 inches (3.5 cm.) Missing one stone. Good. $7.00.
Golden hearts pin and earrings: pin is approximately 2 inches (5 cm) tall; earrings are almost 5/8 of an inch (1 cm) at their widest point. $11.00
Bee pin. Yellow, with golden stripes and white wings, also with golden stripes. Approximately 2.5 inches (6 cm) tall. $10.00.

Green leaf

-

shaped cabochons on silver tone branches pin or brooch.  In very nice shape. Unsigned.

Bird pin. Light aqua, with white body and dark aqua tail. Golden outline. Almost 2 inches (5 cm) tall. $10.00.

Very festive pin from Hallmark Cards®, 1997. Small scratch on one side. Very good. $15.00.
Lovebirds pin. They may not actually be lovebirds, but they are so adorable cuddled up like that, so that's what we're calling them. Both birds are yellow, outlined in goldtone. One has periwinkle blue wings and tail, the other's are sea green. Measures about 5 inches (2 cm.) $10.00.

Pins from Orangina®: saxophonist, tennis player, soccer player, skier and guitarist. All are stamped: "Pub. Garcin 91 79 40 66." Perhaps circa 1990s. Mint. $20.00 each

Mushroom pin: yellow, with green gills. Approximately 2.5 inches (6 cm) tall. $10.00.

Vintage floral pin from Bal-Ron. Stamped "1/20 12 G.F." Probably circa 1940s. Measures about 1.5 inches (4 cm) long. Some aging visible, but still looks very good. $65.00.
pinbacks…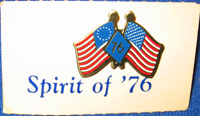 Bicentennial flag pin. Or tie tack. Very good. $10.00.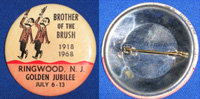 "Brother of the Brush. 1918-1968." Ringwood, New Jersey. Good to very good. $9.00.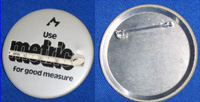 "Go Metric." It's still not too late… Good to very good. $3.00.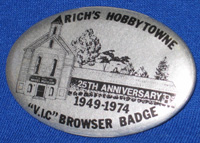 "V.I.C. Browser Badge" from Rich's Hobbytowne's 25th anniversary. (Located once upon a time, we believe, in Parsippany, New Jersey.) Good to very good. $3.00.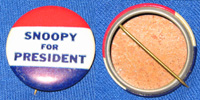 "Snoopy for President." And why not? There is rust on the back, but the fine looks fine. Good. $9.00.