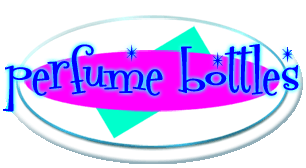 *bracelets
*earrings
*necklaces
*perfume bottles
*pins
*handbags
*scarves
*clothing
*everything else
*kisses from lola
Emeraude by Coty. 1.5 fluid ounce size, still mostly full. Still in box. Missing cap. Good. $3.00.
Capucci de Capucci by Roberto Capucci for Women. 1 and 2/3 fluid ounces/50ml. Stamped (12E7) on bottom. Very good. $30.00.
L'Aimant by Coty. Cologne Spray. 1.5 fluid ounces. Mostly full. Very good. $7.00.
Just what you've been waiting for - a gift set of Brut 33 by Fabergé! Includes splash-on (3.5 fluid ounces) and deodorant stick (2.5 ounces). Box has a bit of wear' but this will still look wonderful in your retro bathroom. Very good. $25.00.
Two good-sized sample bottles (not those annoying little vials) for you: Albert Nipon Eau de Toilette. 1/8 fluid ounces / 3.7 ml. Mostly full. Some damage to box; and Wind Song Cologne by Prince Matchabelli of New York. Sample bottle with a plastic glitter cap. Mostly full; once contained 1/4 fluid ounces. Very good. $10.00.
Chloé Eau de Toilette spray' by Parfume Lagerfeld Paris. 3 fluid ounces/95 ml. Top of box has a crease, but, other than that' looks pretty good. Bottle is mostly full. Very good. $50.00.
Azzaro by Parfums Loris Azzaro Paris. Miniature eau de toilette 1/4 fluid ounce (10 ml) and soap 5/8 of an ounce / 25 grams. Some wear to box' but never used. Very good. $25.00.
Niki de Saint Phalle Eau de Toilette miniature' distributed by Jacqueline Cochran' Inc. of New York. Mostly full. Stands about 2 and 1/8 inches (5.3 cm) tall. Excellent. $35.00.
White Linen' by Estée Lauder. Miniature. Bottle stands about 3 inches (7.8 cm) tall. Very good. $25.00.

* Please note: We can only ship perfumes via UPS Ground.
Contact' ordering'links and other information? It's all in the Details.
Rita's Retros images and text © 2004-2016 HJ Saunders. Website and logo design: ylana.